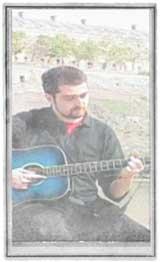 The Biography
Daameer Stone (born March 30, 1984) is a Serbian (Yugoslavian) musician. He was born at the sole of the Shar Mountains in a town named Urosevac and currently resides and studies in Novi Sad, Serbia. Stone is a singer-songwriter, bass guitar player, guitar player and keyboards player.
His influences are very diverse: hip-hop, trip-hop, reggae, soul, funk, punk, metal, indie, rock (hard, classic, brit), blues, jazz, chillout, ambiental and soundtrack music as well as the classical and local ethnicities music.
Stone was persuaded by his friends to publish his music afterwards he started to record his first, entirely independently produced and recorded album "Lost Memories" which was published on 12/12/2008. The album contains influences from trip-hop, grunge, jazz, neoclassical, lounge, instrumental and alternative music presenting Stone's softer dreamy sound.
Daameer was a member of many bands which performed original and cover songs in genres such as grunge, rock, hard-rock, funk, blues, metal, alternative…
He is currently preparing to record his 2nd album which would involve more singing, his own lyrics and additional collaboration with other musicians and songwriters.